The word Mariposa means butterfly in Spanish, so it's the perfect name for the newest mascot for Iron Butterflies Project.
Mari, who is partially blind, was about nine years old when her human mother died. Her grief-stricken father couldn't keep her and she couldn't live with other relatives so she went into doggy foster care. Her foster care mother loved her deeply and took really good care of her, but she had two of her own and couldn't adopt a third one.
We'd been on the waiting list for a rescue dog for months. With the pandemic, shelter dogs are adopted quickly. We knew we wanted a smaller dog and thought we wanted a younger one. The idea of getting attached to an older dog only to have our hearts broken in a few years, was too much to handle, however, we wanted one that was house broken.
One day, we went to "look" at Mariposa, with no intention of adopting her immediately.  The second we locked eyes with her, we knew we were a family. Formerly known as Millie, we knew we had to change her name because our granddaughter is Millie. And, she took to Mari very easily.
Mariposa is as close to perfection as you can imagine. She's a blonde cocker with the most beautiful golden eyelashes. We think she's about ten but she doesn't act like it. Before she went into foster care, she had extensive dental work, including pulling about half her teeth. Her little brown tongue hangs out through what should have been a mouthful of teeth and she looks like she's always thirsty.
Personality-wise, Mari is middle-aged, not old, yet she has aging issues like partial blindness and arthritis. However, she's young at heart. The first day we had her she walked over 10,000 human steps. She's walked every day since, and has made lots of people friends, but not so much for dog-friends! Her neighborhood Godmother is a dear friend who loves dogs but can't have one, so she cherishes Mari like she's her own.
If it takes a village to raise a child, it also takes a village to raise a pet. So, we honor Cocker Spaniel Rescue of Austin and San Antonio as our first #ButterflyKisses organization of 2021 for connecting people with pets to provide them a forever home, for as long as they all shall live.
https://www.facebook.com/AustinCocker
http://www.austincockerrescue.org
https://www.facebook.com/AustinCocker
http://www.austincockerrescue.org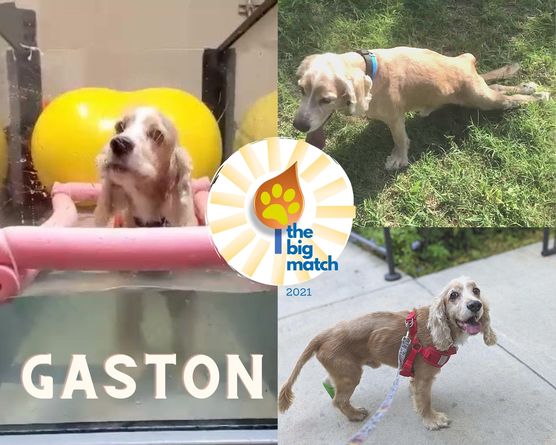 In June 2020, we were approached by a shelter in the Rio Grande Valley about a cocker spaniel whose owners had surrendered him due to a sudden change in mobility – he had stopped using his back legs.  His owners had taken him to their vet who recommended surgery and gave him medication to help him for the time being.  So we had some knowledge of when he was seen by this vet, but we had no idea how long he had been suffering prior to being seen. Instead of following through with surgery, his owners surrendered him to the shelter. As luck would have it, the shelter vet gave him a strong recovery prognosis if he had surgery right away! CSRA/SA sprung into immediate action! A local volunteer picked him up that same day and held him overnight. He arrived in San Antonio the next day and was seen the following morning at an emergency and specialty clinic. As soon as he was triaged, he was seen immediately by a neurologist and an MRI was done. Moments later he was prepped for surgery. Timing can sometimes be everything and luck again was on his side!
This beautiful boy sailed through surgery and, upon waking, tried to stand. "Not so fast, Gaston!" This was a phrase we said often. "Take your time. Rest." But this was the LAST thing he wanted to do!
Gaston flourished in his foster home. He participated in rehabilitation two or three times a week, including work on an underwater treadmill. Our Facebook followers may recall the adorable video of Gaston barking while walking on that treadmill. 
Barking is Gaston's favorite pastime!
Once fully healed, he was ready for adoption and again luck was on his side. 
Gaston is adopted, adored, and still happily barking!
Gaston's story was made possible by a team of CSRA/SA volunteers, our amazing veterinary team, and of course, by supporters like you! You see, The Big Match funds raised last year gave us the ability to cover the expense of Gaston's emergency surgery and rehabilitation while still meeting the needs of the other dogs in our program.
In 2021, your gifts to The Big Match Matching Funds Challenge will go twice as far in helping us rescue dogs like Gaston, allowing us to make sure they receive the lifesaving care and rehabilitation needed. Thanks to the generosity of our matching pool donors, all donations received in January 2021 will be matched dollar for dollar up to $25,000 – making this the perfect time to show your lovingkindness and support for dogs like Gaston who may be a bit down on their luck but have the heart and strength to persevere.
If you wish to donate through their fundraising page at paypal.com/us/fundraiser/charity/62952, via the donate button on our Facebook page at www.facebook.com/AustinCocker, or mail your check to Cocker Spaniel Rescue, PO Box 27453, Austin, TX 78755 and be sure to note "The Big Match" in the memo section.
Austin Cocker Rescue works to find permanent homes for cocker spaniels in central Texas.
Cocker Spaniel Rescue of Austin
PO Box 27453, Austin, TX 78755
Email: [email protected]
Phone: 512-527-9923 (v)
Fax: 512-501-6314 (f)